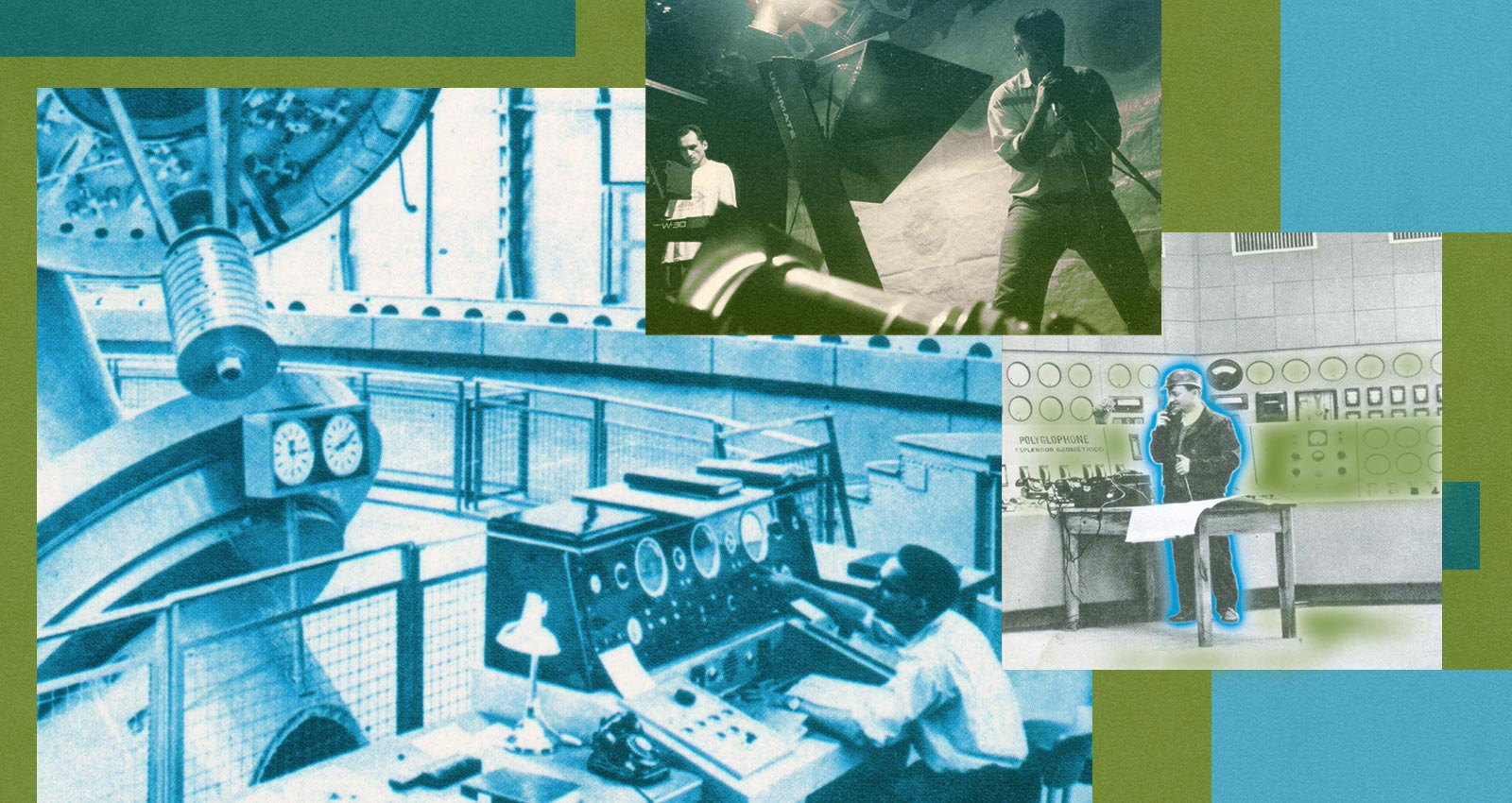 The Spanish band Esplendor Geométrico has come a long way since 1980. Their 40-year catalog of work is vast—boasting 23 albums, not counting singles and compilations—but their approach has always remained the same: "The intention when making [our] themes has not changed. Our intention is to have fun with what we do without further consideration," says Arturo Lanz, the band's only consistent member.
Esplendor Geométrico—which originally included Lanz, Gabriel Riaza, and Juan Carlos Sastre—sought out territory on the fringes of experimental industrial music after they broke off from their techno-pop band, Aviador Dro. Because the members began with the early futurist wave of electronic music at the turn of the '80s, Esplendor Geométrico's catchy initial song, "Moscú Está Helado," retained their pop background (it gained newfound recognition in 2010 thanks to Minimal Wave Tapes Vol. 1). But their first self-released 7-inch single, "Necrosis En La Poya" (1981), with its lack of melody and insistent analog beat, blazed its own path away from the trends of Madrid's burgeoning underground music scene.
They've always been outsiders and wanted it that way. "Electronic primitivism," Esplendor Geométrico's self-proclaimed genre, sits within the ethos of those who sought out extremes in early industrial music, namely Throbbing Gristle in the late 1970s. But while some of their industrial peers morphed into other iterations—Cabaret Voltaire with a focus on a house-y, funky groove, and SPK towards edgy synth-pop—Esplendor Geométrico have stuck steadfastly to their initial concepts. (However, Lanz is quick to note they're not industrial—"I think the only industrial band was Throbbing Gristle.")
Technology's progress has also been an imperative aspect of the project, emphasized by the addition of Saverio Evangelista in the early 1990s (currently the only other active member). As an analog project turned digital, the duo now prefers to work with computers and iPads over drum machines or synths, which, Lanz notes, "also meant a change and opened up many possibilities that we continue to explore." It was an important development to the band during that time, but, as he states, "Esplendor Geométrico's sound was still 100 percent recognizable."
Fearless in their approach over the years, they've forged headlong into raw explorations of their tools. And by challenging themselves through processes of sampling, pedal effects, and the overexertion of analog gear, they unearthed radical methods of producing noise. These excavations can create ear-splitting compositions in their discography; however, there are also instances of rhythmic noise and techno, even bits of rowdy gabber or electro.
With the new release of 40 Años Nos Iluminan Vol. 1 and Vol. 2, Esplendor Geométrico celebrate decades of their own genre-defying and ever-progressing conceptual explorations into sound. Below are just a few of their most notable albums that possess one connecting factor: an emphasis on the incessant heartbeat of the machine.